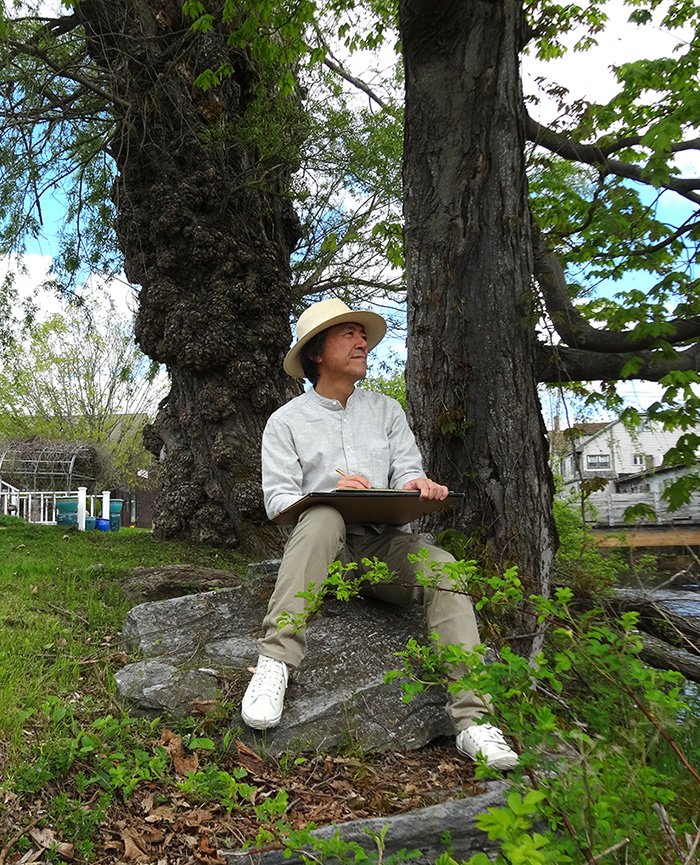 Artist "Teppei Sasakura"
His works which give peace to the people have the atmosphere of the journey and the gentle light.
He has published more than 200 Prints, Work Books, Catalogue Raisonnes, DVDs, and so on.
In recent years, he held successful exhibition in Paris, Florence, and Beijing.
And he is introducing Japanese beautiful sceneries to overseas.
1954 Born in Hyogo Prefecture.
1977 Graduated from the Commercial Design Department of Musashino Art University.
1987 Created illustrations of towns of the Romantic Highway in southern Germany for the "Romantic Gallery" series in a monthly installment in The Mainichi Newspapers color edition.
1988 Created illustrations of towns in France for "Romantic Colored Streets"series in a monthly installment in The Mainichi Newspapers color edition.
1990 Held his first solo exhibition at Spiral Gallery, Aoyama, Tokyo, whichhe started to devote himself to producing works as an artist.
1998 First museum solo exhibition at "Daimaru Museum Tokyo".
2004 First foreign solo exhibition at Recanati in Italy.
2005 Held solo exhibition at Firenze in Italy.
2006 Held joint exhibition with Liu Chang Shun in Beijing, China.
2008 Held solo exhibition at Paris in France.
2015 Held solo exhibition at Kodai-ji (Kyoto) and Firenze in Italy.
2021 Held solo exhibition commemorating the 30th anniversary of painting at the Ueno Royal Museum.
In addition, he has held solo exhibition more than 100 times at the famousdepartment stores since 1991.
---
There is a detailed biography on the next page.